New Solutions for High-Pressure Hydro-static Test Systems
Streamline Hose and Fittings, offers state-of-the-art high-pressure hydrostatic test equipment. Streamline's latest hydrostatic testing systems provide solutions for almost any testing needs. The system includes Streamline's high-quality hydrostatic test pump, separate control panel, and easy to use graphical control and certification software.
Check out Streamline's Hydrostatic Test System in this YouTube Video!
The hydrostatic test pump system is designed to allow the operator to safely test many different types of equipment at high pressures inside of a safe blast chamber. The control panel consists of pneumatic controls which operate a separate pump unit which can be mounted inside test area. This design isolates pumps and output pressure components away from the operator. The system is equipped with a dial air regulator to accurately achieve desired test pressures. For maximum safety, a momentary pneumatic toggle valve is used to control start and stop of pumps to prevent the operator from leaving controls and allowing the pump to run unattended.
The test pump system comes with Streamline's easy to use graphical Certification Software. The software allows operators to easily setup and monitors ongoing tests. The software also automatically creates permanent, non-editable test certifications for each and every test that is run on the machine.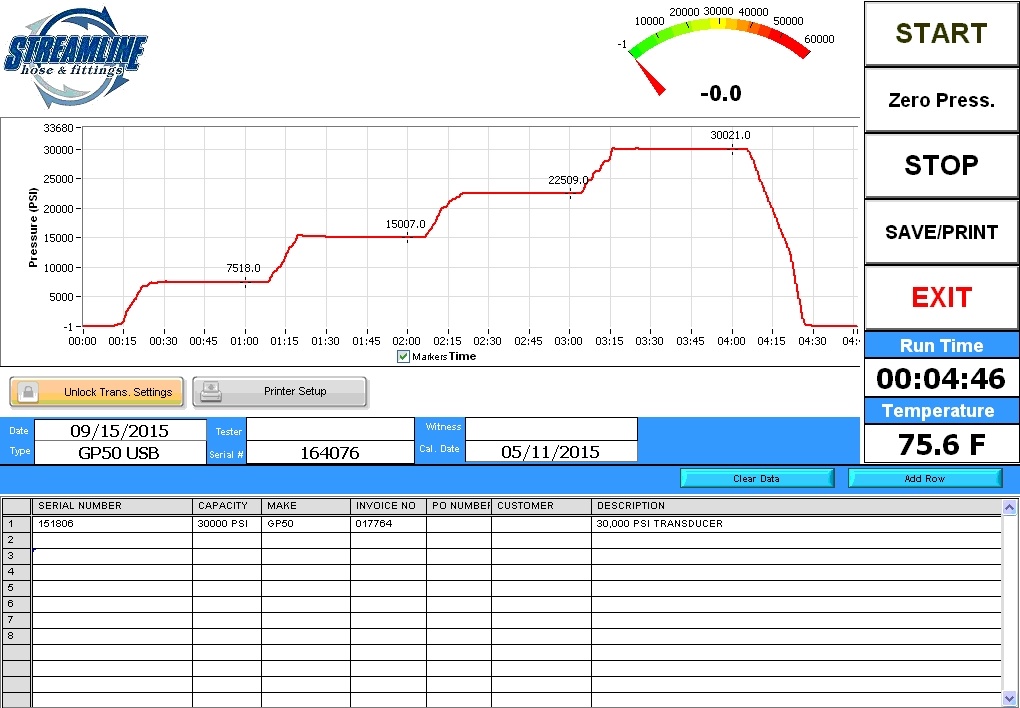 Streamline's State-of-the-Art Graphical High Pressure Test Software
This is a great example of a successful product development in collaboration with Erdos Miller. Erdos Miller engineers developed the LabVIEW software application that controls the pressure equipment, acquires data, and creates reports; all driven by easy-to-use graphical software.
For inquiries about the Streamline Hydrostatic Test system and to learn more about Streamline Hose and Fittings: http://streamlinehose.com/
For inquiries regarding LabVIEW software development and other engineering services, or to learn more about Erdos Miller: http://www.erdosmiller.com
Recent Posts:


Kenneth Miller
My first days as an MWD field tech I heard horror stories surrounding what is [..]