Most of us who use LabVIEW on a daily basis know how tedious managing lots of control references can be. This happens especially when managing lots of references. Sometimes, you may end up having something that looks like this that grows as you work on your application: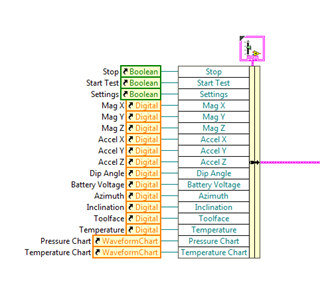 And we all know how much of a nightmare this can be...
With this in mind, at Erdos Miller we created a tool that we have been using internally for quite some time now, and we have decided to share it with you.
Start your free trial of control references node for LabVIEW today!
ERDOS MILLER's Control References Node for LabVIEW

To save you some time -and frustration- we have created a Control References Node. This product is a LabVIEW Library meant to be used by developers using LabVIEW 2015 or a later version.
With this software you will be able to:
- Get a cluster of all control references just by dropping the node onto the block diagram.
- Bind the output type to a typedef.
- Include a reference to the owning VI and/or the owning VI's front panel.
- Exclude references to controls above or to the left of the origin.
- Optionally exclude controls individually.
- Organize controls on tabs into pages in the output cluster.
start a 7-day free trial of
control references node for labview today!
After the 7-day Free Trial has ended, you can purchase a lifetime license for Control Reference Node for a one-time payment of $199.