In an age in which cables are becoming less and less common, WITS Networks still require physical cables to connect legacy softwares. To us, that didn't make sense...
Goodbye, Physical WITS cables!
Hello, NetWITS!
NetWITS is a LAN WITS relay program that allows you to connect any number of legacy WITS softwares, on separate PCs, together without the need of any physical cables.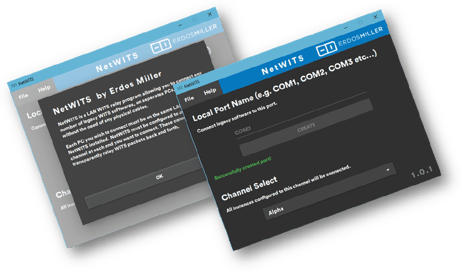 With NetWITS, you will be able to:
Create wireless WITS connections, avoiding cable clutter!
Simplify WITS network setup.
Set up more complex WITS networks that were not possible with cables previously.
Get more reliable WITS connections. Never unplug cables accidentally again!
How does NetWITS work?
The NetWITS approach drops the requirement of physical proximity while adding a LAN requirement . Instead of using physical cables, NetWITS uses TCP network communication to transport WITS packets from PC to PC.
NetWITS also allows for more complex WITS network configurations as you are no longer limited to only point-to-point configurations.
Traditional Approach:

NetWITS Approach: